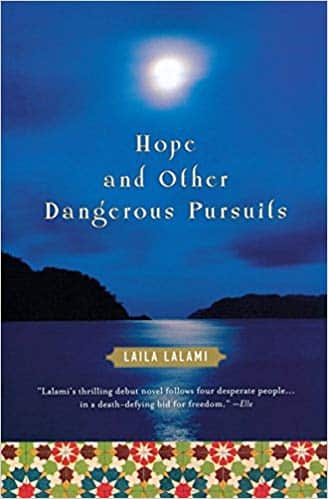 Hope and Other Dangerous Pursuits
Release Date: Jan 01, 1970
Type(s): Hardcover, Paperback, Audiobook, Kindle
The book begins as four Moroccans illegally cross the Strait of Gibraltar in an inflatable boat headed for Spain. There's Murad, a gentle, educated man who's been reduced to hustling tourists around Tangier; Halima, who's fleeing her drunken husband and the slums of Casablanca; Aziz, who must leave behind his devoted wife to find work in Spain; and Faten, a student and religious fanatic whose faith is at odds with an influential man determined to destroy her future.
What has driven these men and women to risk their lives? And will the rewards prove to be worth the danger? Sensitively written with beauty and boldness, this is a grip­ping book about people in search of a better future. (Description from Amazon.com)
About the Author:
Laila Lalami was born in Rabat and educated in Morocco, Great Britain, and the United States. She is the author of the novels "Hope and Other Dangerous Pursuits," which was a finalist for the Oregon Book Award; "Secret Son," which was on the Orange Prize longlist; and "The Moor's Account," which won the American Book Award, the Arab American Book Award, and the Hurston/Wright Legacy Award. It was on the Man Booker Prize longlist and was a finalist for the Pulitzer Prize. Her essays and opinion pieces have appeared in the Los Angeles Times, the Washington Post, The Nation, the Guardian, the New York Times, and in many anthologies. She writes the "Between the Lines" column for The Nation magazine and is a critic-at-large for the Los Angeles Times. The recipient of a British Council Fellowship, a Fulbright Fellowship, and a Guggenheim Fellowship, she is currently a professor of creative writing at the University of California at Riverside.