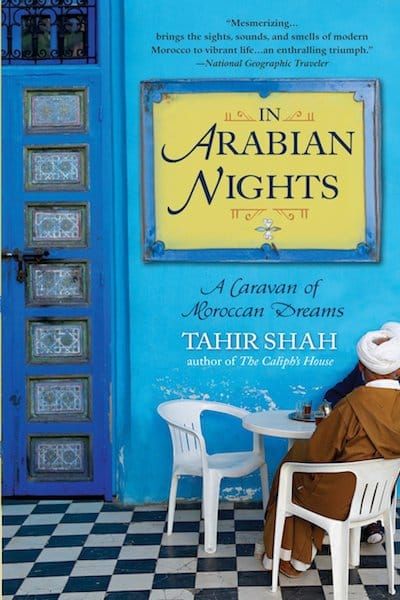 In Arabian Nights
A Caravan of Moroccan Dreams
"Named one of Time magazine's Ten Best Books of the Year, Tahir Shah's The Caliph's House was hailed by critics and compared to such travel classics as A Year in Provence and Under the Tuscan Sun. Now Shah takes us deeper into the real Casablanca to uncover mysteries hidden for centuries from Western eyes.
In this entertaining jewel of a book, Tahir Shah sets off across Morocco on a bold new adventure worthy of the mythical Arabian Nights. As he wends his way through the labyrinthine medinas of Fez and Marrakech, traverses the Sahara sands, and samples the hospitality of ordinary Moroccans, Tahir collects a dazzling treasury of traditional wisdom stories, gleaned from the heritage of A Thousand and One Nights, which open the doors to layers of culture most visitors hardly realize exist. From master masons who labor only at night to Sufi wise men who write for soap operas, In Arabian Nights takes us on an unforgettable, offbeat, and utterly enchanted journey." (Description from Amazon.com)
Reviews:
"Intensely felt…. Teeming with sorcerers, enchanted animals, jinns, and dervishes….Shah's Moroccans and the shards of their tales create a brilliant literary mosaic." —Booklist
"Creates moments of wonderment.... And worthy of note, especially in these times, is its illumination of a part of Arabic culture that is gracious, gentle and wise." —Cleveland Plain Dealer
"A spellbinding journey from Casablanca to Fez and Marrakech…unforgettable… Highly recommended for larger armchair travel collections and for collections on the Arab world." —Library Journal
"Simply irresistible…bursts with quirky characters, Moroccan lore, desert and urban landscapes, odd encounters, an incisively curious and adventure-seeking mind, and a lust for and fascination with ancient tales." —Providence Journal
"Mesmerizing …brings the sights, sounds, and smells of modern Morocco to vibrant life …an enthralling triumph." —National Geographic Traveler
About the Author:
Tahir Shah was born into an Anglo-Afghan family with roots in the mountain stronghold of the Hindu Kush. His ten books have chronicled a series of fabulous journeys. He lives with his wife and two children in Casablanca.