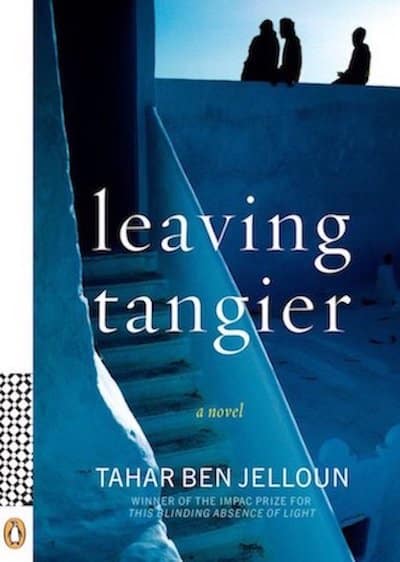 Release Date: Jan 01, 1970
Type(s): Paperback, Kindle
In Leaving Tangier, award-winning, internationally bestselling author Tahar Ben Jelloun tells the story of a Moroccan brother and sister making new lives for themselves in Spain. Azel is a young man in Tangier who dreams of crossing the Strait of Gibraltar. When he meets Miguel, a wealthy Spaniard, he leaves behind his girlfriend, his sister, Kenza, and his mother, and moves with him to Barcelona, where Kenza eventually joins them. What they find there forms the heart of this novel of seduction and betrayal, deception and disillusionment, in which Azel and Kenza are reminded powerfully not only of where they've come from, but also of who they really are. (Description from Amazon.com)
Reviews:
Award-winning Jelloun offers a forthright novel illuminating the dreams and harsh realities of emigration. Brother and sister Azel and Kenza are living in Tangier, Morocco. Azel has two degrees but is unable to find work, and spends his evenings at a café from which he can see the lights of Spain. He longs obsessively to emigrate to Europe, convinced that only there will he be successful. When Azel is brutally beaten, Miguel, a wealthy Spaniard, comes to his aid and helps Azel get a visa to Spain on the provision that Azel will become his lover. Azel leaves his family and girlfriend to accompany Miguel to Spain but becomes increasingly disillusioned when he realizes that his new country is not the easy answer to his visions of a better life. Kenza soon joins Azel to pursue her own desires and meets a Turkish man with a dark secret. Jelloun's compelling characters often fall prey to the shadow side in their quest for a bright future in this frank and authentic tale of hope, risk, and regret. --Leah Strauss - Booklist
As several expatriate Moroccans learn in Jelloun's latest, it doesn't matter how difficult life may be in the home country, a whole new set of difficulties waits in the promised land. Most of the novel focuses on Azel, a young Tangier native and a self-described Arab who doesn't like himself. Desperate to escape, Azel agrees to become the object of affection for a wealthy Spaniard named Miguel, who takes him in after a brutal police beating. Leaving behind his family and girlfriend for the good life he's imagined in Spain, he soon learns that daydreams can be misleading—and that the life he's always wanted is causing him, despite his benefactor's best intentions, to self-destruct. Before long, Azel's sister Kenza, a nurse, weds Miguel to gain Spanish citizenship, then falls in love with an expatriate Turk who comes with his own set of problems. This harsh, unsentimental view of the risks and regrets of emigration—as well as the stunning realities of life under Islam law—is a stark, straightforward tale that readers can't help getting caught up. (Apr.)
Copyright © Reed Business Information, a division of Reed Elsevier Inc. All rights reserved. - Publisher's Weekly
About the Author:
Tahar Ben Jelloun is a Moroccan writer. Although his first language is Arabic, the majority of his work is written in French. He first became known for his 1985 novel L'Enfant de Sable. He has been short-listed for the Nobel Prize in Literature.