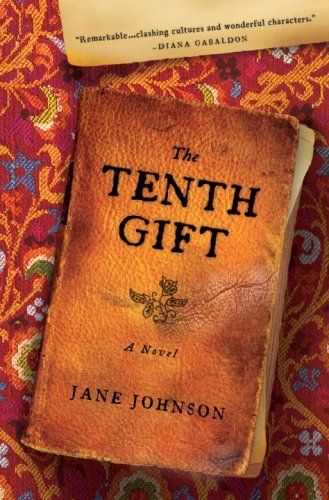 In an expensive London restaurant, Julia Lovat receives a gift that changes her life. At first glance it is a book of exquisite seventeenth-century embroidery patterns belonging to a woman named Catherine Ann Tregenna. Yet in its margins are the faintest diary entries; they reveal that "Cat" and others were stolen from their Cornish church in 1625 by Muslim pirates and taken on a brutal voyage to Morocco to be auctioned off as slaves. Captivated by this dramatic discovery, Julia sets off to North Africa to determine the authenticity of the book and to uncover more of Cat's mesmerizing story. There, in the company of a charismatic Moroccan guide, amid the sultry heat, the spice markets, and exotic ruins, Julia will discover secrets long buried. And in Morocco—just as Cat did before her—she will lose her heart.
Though they live almost 400 years apart, the stories of these two women converge in an extraordinary and haunting manner that begs the question, is history fated to repeat itself? (Description from Amazon.com)
Reviews:
"A remarkable view of Barbary pirates and their times, and an engrossing romance of clashing cultures and wonderful characters." —Diana Gabaldon, #1 New York Times bestselling author
"This is such a lush book! It transported me to another time and other places, enticing me into an exotic, turbulent world in which past and present are seamlessly woven into a mesmerizing story." —India Edghill, author of Wisdom's Daughter
"What a tangled web Jane Johnson weaves with the opening of a book of old embroidery patterns! Two heroines cross paths across centuries. Unworthy lovers, treachery, ghosts, and pirates march through the streets and seas of modern day England, 17th century Cornwall, and Morocco as each woman tries to find what is most important to her. Discovering one's authenticity is a story in which time doesn't matter, and Johnson stitches the threads of both stories into a lovely, enticing whole." —Karleen Koen, New York Times bestselling author of Dark Angels
"I was totally enthralled from the first page to the last by this dramatic, exotic, and passionate tale that slips seamlessly through time. Jane Johnson's wonderfully researched book leaves the fragrance of spices and the rustle of beautiful silks lingering in the mind with images of two exceptional women and the men in their lives." —Rosalind Laker, author of The Golden Tulip
"A gripping historical mystery based on historical fact. A sensuous, richly-textured novel." —Rebecca Stott, author of Ghostwalk
"Exciting, intriguing, fascinating and also illuminating." —Rosalind Miles, bestselling author of I, Elizabeth
About the Author:
Jane Johnson is from Cornwall and has worked in the book industry for 20 years, as a bookseller, publisher and writer.
She was responsible for publishing the works of J R R Tolkien during the 1980s and 1990s and worked on Peter Jackson's Lord of the Rings movie trilogy, spending many months in New Zealand with cast and crew. Under the pseudonym of Jude Fisher she wrote three bestselling Visual Companions to the films. She has also written several books for children.
In 2005 she was in Morocco researching the story of a distant family member who was abducted from a Cornish church in 1625 by Barbary pirates and sold into slavery in North Africa (which formed the basis for Crossed Bones / The Tenth Gift), when a near-fatal climbing incident caused her to rethink her future.
She returned home, gave up her office job in London, sold her flat and shipped the contents to Morocco. In October she married her own 'Berber pirate' and now they split their time between Cornwall and a village in the Anti-Atlas Mountains.
She still works, remotely, as Fiction Publishing Director for HarperCollins. (from goodreads)