The Dades area is made up of a large valley, river, and a gorge all of the same name. Dades Valley is made lush and green by the Dades River, a tributary of the Draa River, Morocco's longest river. 
The Dades River sustains almond, fig, walnut, and birch trees scattered throughout the valley in beautiful contrast to the earthen colored cliffs and rock formations. Palm groves add to the verdancy of the valley.  
For those who are interested in trekking, Dades Gorges and Dades Valley offer a vast array of adventures –– from an overnight with a nomad family reached by hiking to day treks throughout the area.  There's something for everyone. 
Recommended Length of Stay: 1-2 nights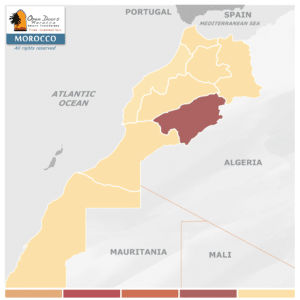 Morocco, though it is visited by thousands of tourists every year, remains an unknown country – the greater part of it as uncharted to the European or American visitor as was Tibet a hundred years ago.

Gavin Maxwell, Lords of the Atlas, 2000
Places to visit while here
read more