We are excited to announce that with the help of Indiegogo and some very special clients, we have raised 15k to start a bivouac, or camp in the Sahara Desert.  The bivouac will be what we call a "Fair Wages Camp."  Read on to find out more about this exciting sustainable project in the Sahara Desert.
The Problem
In the majority of Saharan tourist outlets, the locals work the hardest; and they are the ones who are exploited the most.  The majority of them do not make enough money to cover their own basic living expenses, let alone support a family.  While by law, all workers are entitled to time off, holiday pay, and a limit to the maximum hours a week they are allowed to work,  this is not enforced.  As a result, most workers live on site in poor conditions. They work until 1 or 2 am, and return back to work by 6 am.  If unavailable 24×7, their jobs are handed off to someone else.  As they age, they have nothing to save for the years when they can no longer work.
Our Goal
Our goal is to create jobs that enable locals to make fair wages while enjoying the benefits they are entitled to receive by Moroccan labor laws. We seek to empower them by offering a fair exchange for their expertise and knowledge about their country. The camp will be sustained by guest reservations and our work in the tourism field.  Other agencies will have the opportunity to place guests at the bivouac, provided they agree to our FAIR wages vision.  Once the camp is sustainable and profitable, we will reproduce this project in another area in Morocco. Contact us to discover out how you can add the Open Doors Morocco Bedouin Bivouac to your vacation plans.
The Impact
The camp will be mutually beneficial to both travelers and local Moroccans.  As a result, the lives of locals will be changed, beginning with the three first hires.  Our guests will return home transformed after experiencing the unique "sense of place" that only the hospitality of the Moroccan Sahara can provide. Opportunities for meaningful connection among cultures will be readily available as our guests experience aspects of the Moroccan Bedouin culture. Stay tuned for future updates as we further unfold this aspect.
Specific Details
The bivouac is located in the dunes proper, near the village of Merzouga. Vehicle access is limited, and camels are the best means of transportation. Guests will sleep under the stars in nomad tents woven of camel and goat hair. Although the tents of genuine, they will consist of comfortable beds. There will also be bathrooms, a well for water, a fire pit, and a small dining tent with a kitchen.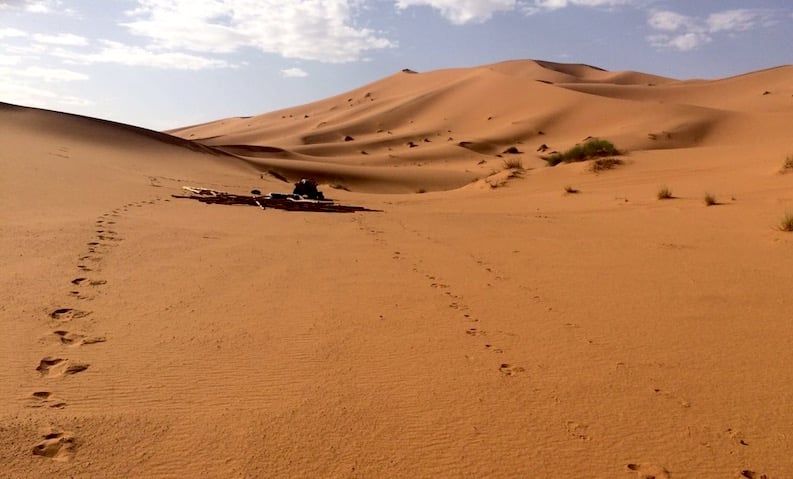 Our real passion is community development through tourism. Click To Tweet
Interested in contributing to our project?  Visit our campaign at Indiegogo to find out how you can lend a hand.