As the pandemic was crashing down on the world, a group of ladies was exploring Morocco with Open Doors Morocco. One of the ladies was Sandy Cross, a lifelong artist and watercolor painter. Sandy says that painting Morocco has kept, "Morocco on my mind."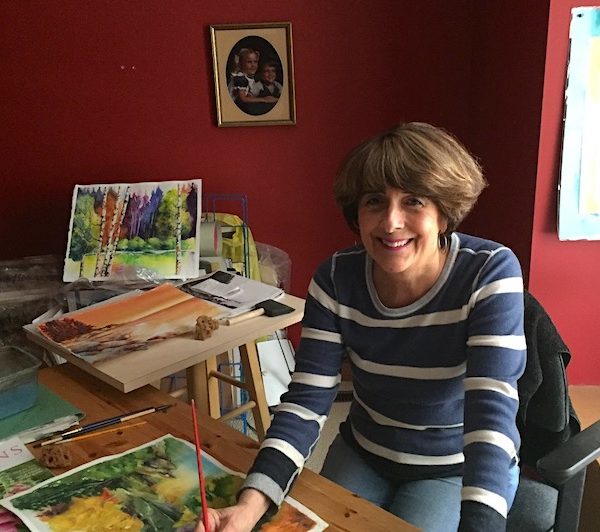 Sandy was born in Vancouver, BC and grew up with a love of coastal landscapes and gardens. Her passion for art was fueled by her Gramma. Sandy's formal education includes a Bachelor of Arts, Art education, and Fine Arts. She taught elementary school for 40 years, and always integrated art into the curriculum. She believes that art is essential to children's education.
Sandy is especially fascinated by watercolor as it offers her an opportunity to portray a wide range of emotions through color. She continues in her own Gramma's tradition by inspiring her grandchildren to experience the joy of fine art.
Watercolour captivates and inspires me. My paintings are passionate interpretations of florals and landscapes. Photographs taken motivate unique drawings. They come alive in warm, bold colour, texture, and contrasting of light and shadow. This is truly my happy place.
It's no surprise that Sandy found inspiration in Chefchaouen, Morocco. Known especially for its vibrant blue hues, the city is a rich tapestry of color. Sandy says, "When in Chefchaouen, the intensity of the blue really resonated unity and peace. The people seemed so happy and joyous as they hugged and walked with arms around each other. Children were playing happily and cats sunned themselves in cozy beds on so many streets."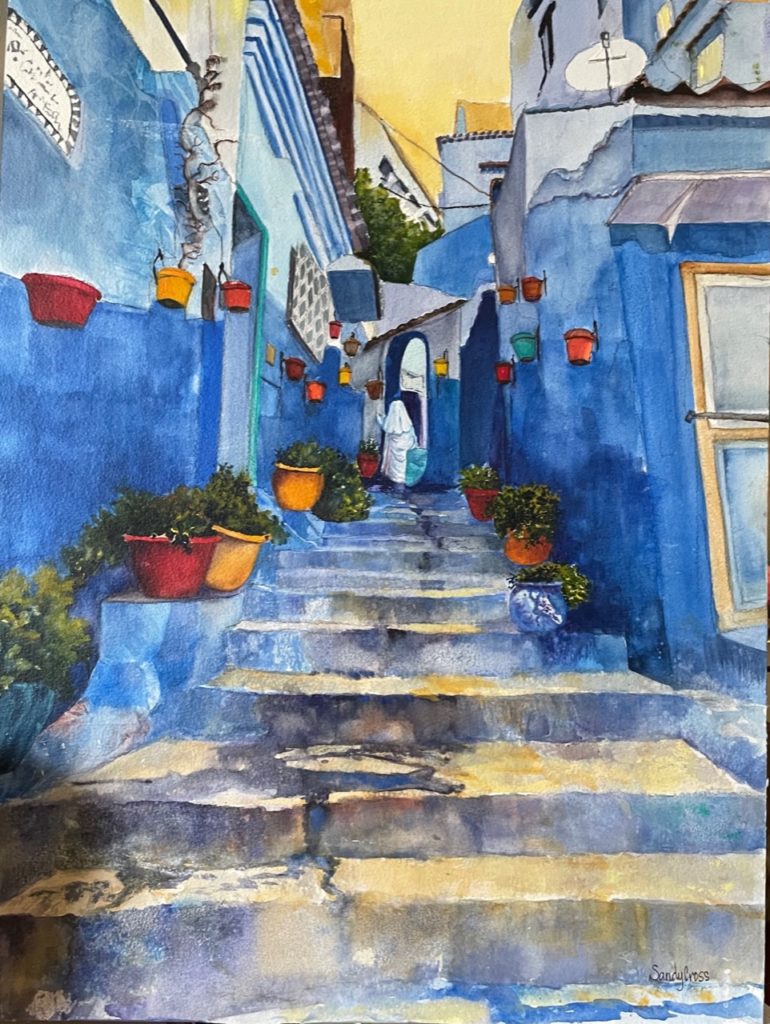 Sandy also says of Chefchoauen, "There was colour, and more colour, along with a proud history. It was pure joy exploring narrow streets, shops, markets, historical sites and enjoying the outdoors with all its shades of blue!"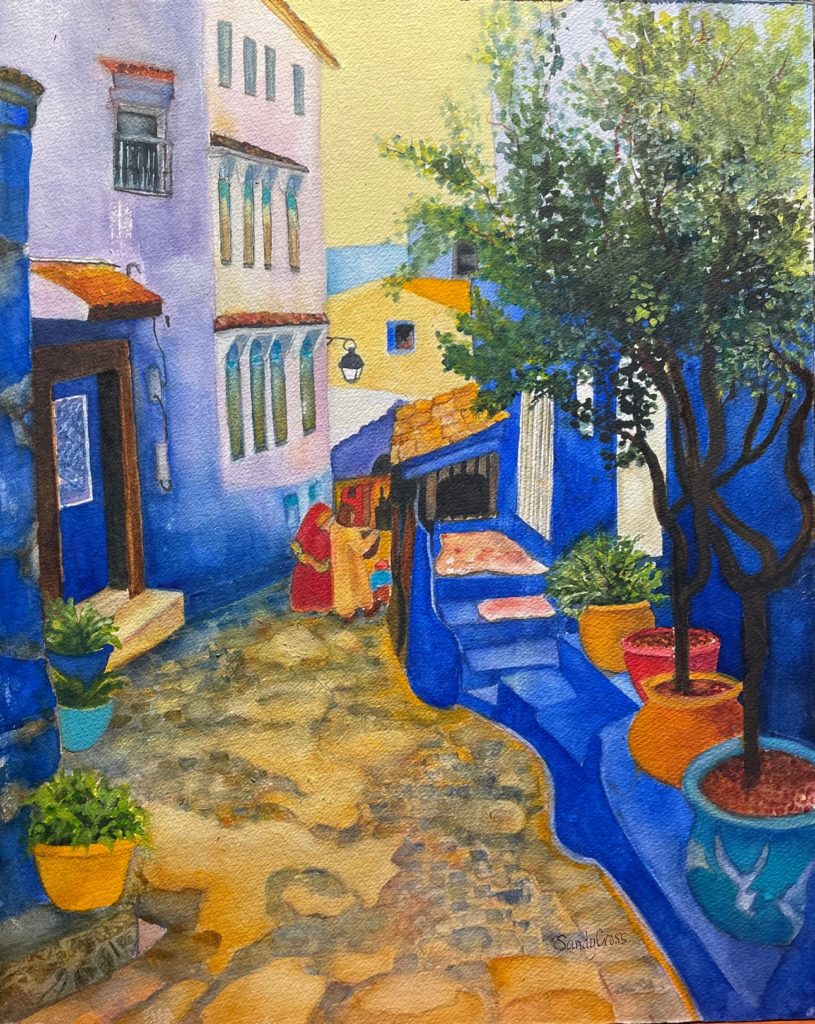 The friends traveled throughout Morocco. Another place that captured Sandy's heart was the desert. Sandy expressed her thoughts about the Sahara in this way, "The Sahara has been a dream for years, especially riding a camel! Again, the incredible blue sky, welcoming openness of the golden sand and warmth of the sun filled me with such happiness. The camel photo that I used as a reference for my painting was cleverly taken by my friend as she was riding her camel. When I look at this painting, I can pretend I'm there!"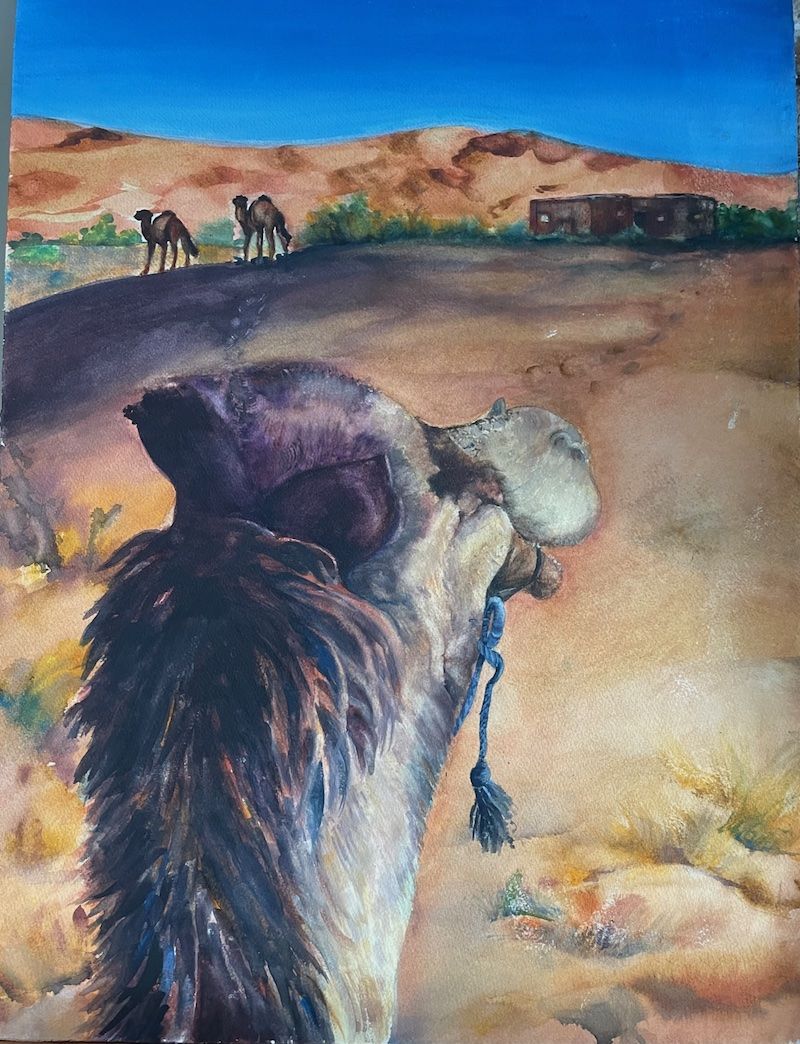 In closing Sandy says that, "These two destinations provided an abundance of colour in nature along with man-made colour … a visual feast!" The three friends explored Morocco and had a great time doing it!
Sandy says, "My trip to Morocco was life altering in that I fell in love with the Moroccan experience!"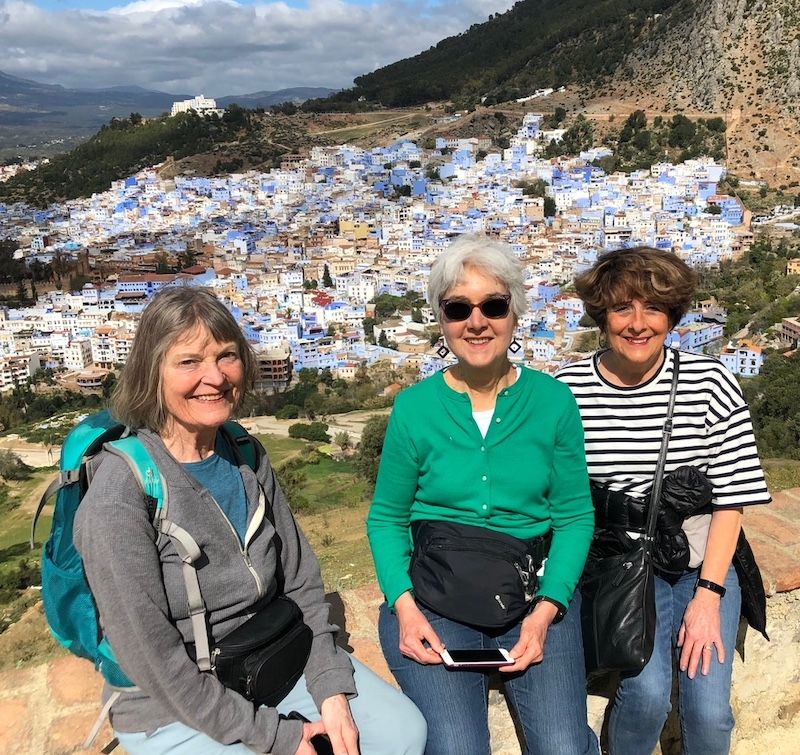 In what ways does Morocco inspire the artist in you? Please share in the comments!
To see more of Sandy's work, visit her website HERE.