The "Bernie's Mittens" memes are such a big hit, we thought we'd join in the fun. Over the years, US Senator Bernie Sanders (VT) has promoted a view toward improving the well-being of the developing world. While we work on a more granular scale, we value improving the well-being of Moroccan communities, specifically single women.
Without further ado, we present unique places in Morocco to visit with or without mittens.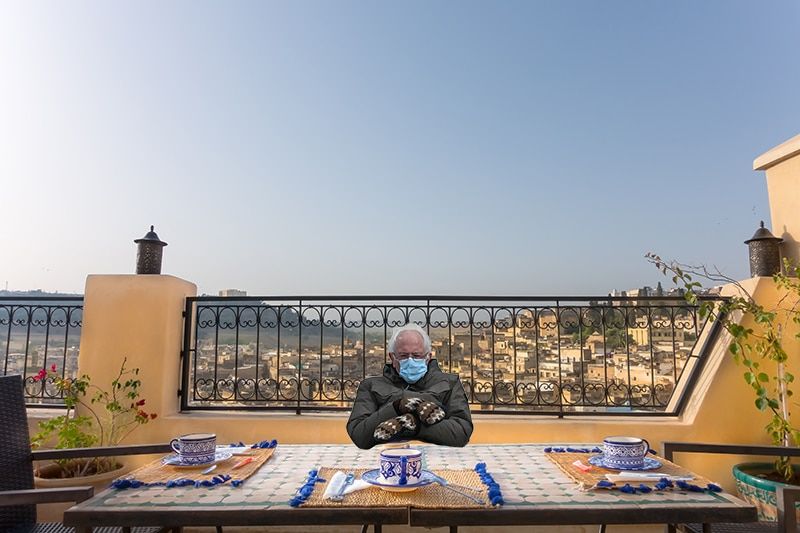 First, it's important to mention that fuel is necessary for a full day in Morocco. One thing there is no shortage of in Morocco is food. It's not unusual for strangers to offer you food as you walk down the street. Every visit involves copious amounts of food and gallons of mint tea. Never attempt to leave the home of a Moroccan without eating A LOT!
 Bernie's Mittens and the Sahara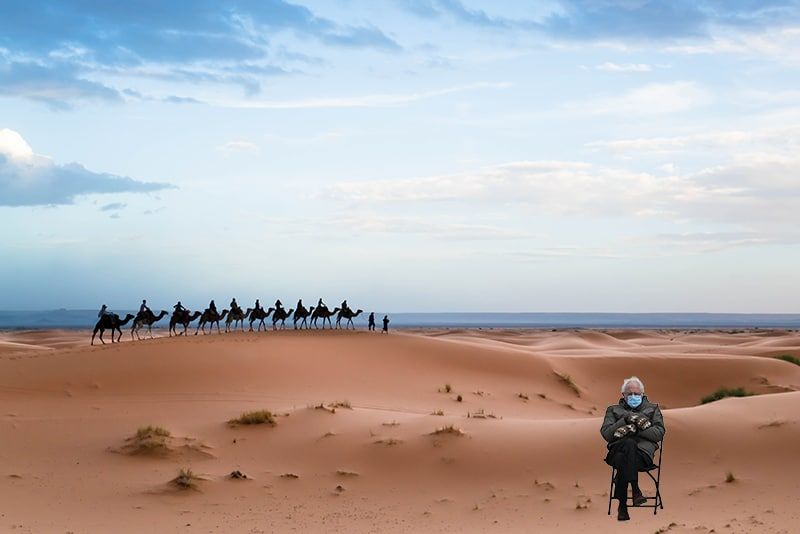 Morocco is well known for Sahara Desert camel caravans. However, Morocco is far more than desert and camels. The country is packed full of old cities, friendly villages, colorful people, lively music, amazing geography, and much more. Spend two weeks in Morocco and you'll never want to leave!
Safety Note: Remove mittens before boarding a camel.
Earth Art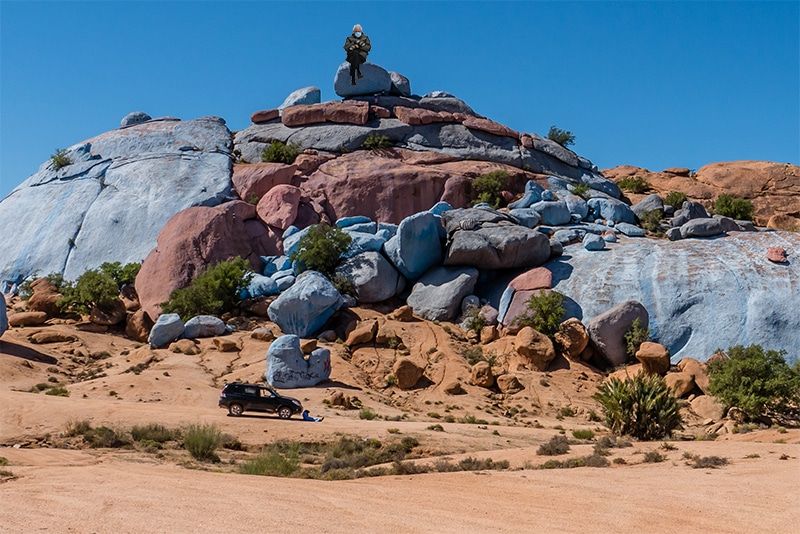 The serene and laid back village of Tafraoute is tucked away in the Anti-Atlas Mountains. This area of Morocco is less traveled than most, and offers a genuine glimpse of real life. The region is generously sprinkled with almond trees that erupt in beautiful flowers during early Spring. In addition, they provide a source of income for local families. Very little English is spoken in the area, nonetheless the locals are very open and hospitable.
The rocks seen in the image lie just outside of Tafraoute. Belgian artist, Jean Verame painted them in 1984 as a tribute to his late wife. As an earth artist, Verame sees elements of nature as his canvas. It is said that, Hassan II, king of Morocco at the time, (surprisingly) supported this project. I can only speculate how that proposal might have been worded:
"Your majesty, do you mind if I spray 18 tons of blue, violet, red, and white paint on some rocks down in the Anti-Atlas? The paint will be provided by yours truly."
Apparently, this is not uncommon for Verame, as he has painted the land in other obscure locations such as the Tibesti Mountains in Chad and the Sinai Desert in Egypt.
Camoflauge for Bernie's Mittens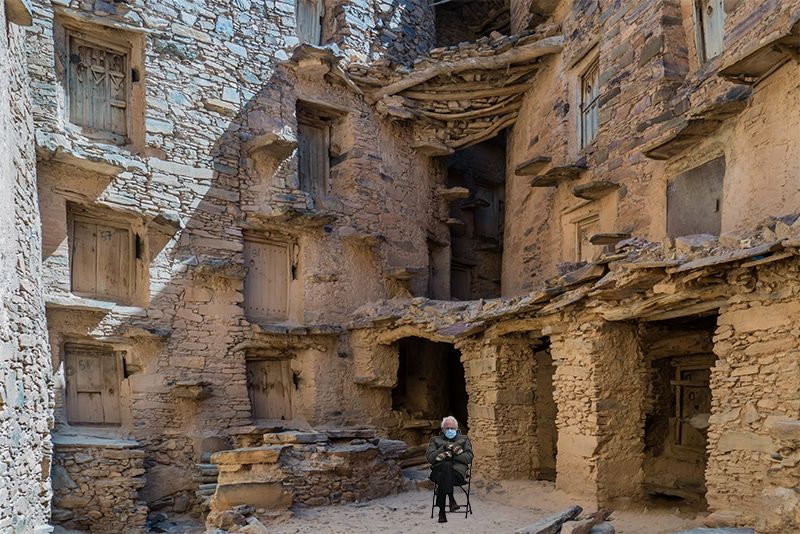 Besides providing stellar camoflauge for Bernie's mittens, the image, above, represents a little known historical tidbit about Morocco. The image shows the agadir, Tasguent. The term agadir (plural: igoudar ) means granary in Berber. Unfortunately, if you google "agadir," you'll most likely pull up listings for the resort city of Agadir, which is different.
An agadir is similar to a "bank," in the broad sense of the term. The granaries in the area date back 800 – 1000 years. In those days, Berber tribes held the land. Each tribe had its own agadir. Each family owned a box, or a room, in the agadir. Think in terms of safety deposit boxes. The photo shows wooden doors with little platforms in front of them. The doors are entrances to the storage rooms. Precarious steps still link some of the doors. Others have lost their stairs. Tasguent winds around in the same manner on multiple floors. Every agadir is uniquely arranged. Most appear to have taken on the "build as you go" method of construction. In my opinion, this gives them more character. Igoudar (singular: agadir) perch strategically on hilltops, reminiscent of the days of warring tribes.
Families stored harvested grains in their assigned rooms to keep them safe from neighboring tribes. They also stored important documents, and any valuables they owned. Each agadir was maintained and protected by a guardian who lived there with his family. Igoudar  have guardians to this day, and most live on the premises. They are usually descendants of the original protecting family. Guardians are quite welcoming to foreigners, but suspicious of other Moroccans. This must be a trait left over from the past, as valuables are no longer stored in igoudar.
Tasguent is one of many granaries, or igoudar, scattered across southern Morocco. Stay tuned for a future article about these fascinating fortresses.
Bernie's Mittens and the Roman Ruins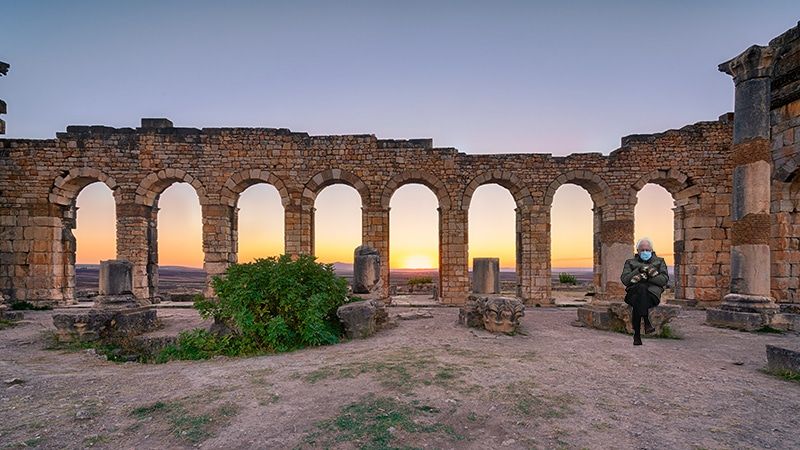 Some people are surprised to discover that the Romans did indeed colonize parts of northern Morocco. This image, shot by my talented husband, Andy Yee, is of the Roman city, Volubilis. Volubilis is quite small in comparison to Roman ruins in other locations. However, the setting is very beautiful. The city sits atop a hill and offers a panoramic view of the surrounding countryside.
16th Century Village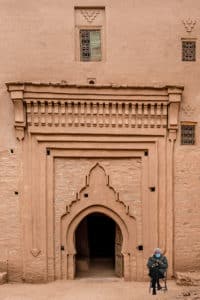 Last, but certainly not least, we have an image of a kasbah door from my favorite village in Morocco. Tamnougalt is a Berber village whose peak was in the 16th century. Presently, it lies in ruins. The people in Tamnougalt are what make the area so special. They are open and eager to share their culture and their homes with foreigners. Not much English is spoken, but our hosts at Open Doors Morocco are well-known and trusted by the community. They will help you feel connected.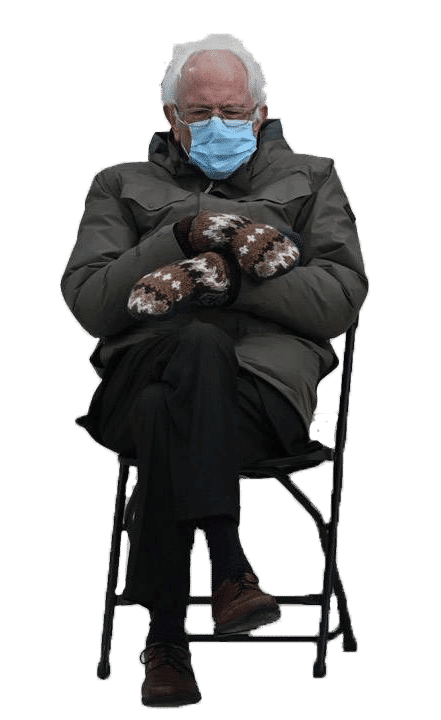 In summary, we hope you've enjoyed our Bernie's Mittens memes as much as we enjoyed selecting the images for them. Kudos to Bernie for selling sweatshirts with his meme and donating 100% of the proceeds to Vermont's Meals on Wheels.
We are cautiously optimistic that the world will reopen soon. While we can't do anything to help you find your own set of Bernie's Mittens, we can offer you a trip of a lifetime. (Mittens are optional.) Until the time comes, stay healthy and safe!