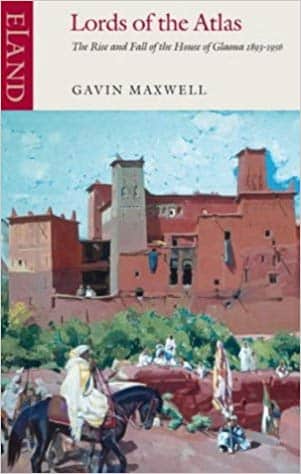 Lords of the Atlas
The Rise and Fall of the House of Glaoua 1893-1956
Release Date: Jan 01, 1970
Type(s): Hardcover, Paperback
Lords of the Atlas is a classic story of Morocco and the rise and spectacular fall of the House of Glaoua. Madini and T'hami El Glaoui, sons of a Moroccan Caid by an Ethiopian concubine, rose meteorically to power in the almost medieval state of Morocco at the end of the nineteenth Century. This is the epic story of the more than fifty years in which they governed the country in barbaric, ostentatious splendor, until their spectacular downfall in 1956. Out of the intriguing and dramatic lives of Madair and T'hami, Gavin Maxwell has fashioned an epic story set against the superb background of Marrakesh and the pinnacled castles of the High Atlas, still magnificent as crumbling ruins. A dramatic history of intrigue, action, and exotic places, and illustrated with over one hundred color illustrations and photographs, Lords of the Atlas is a stunning look at the rise and fall of one of the twentieth century's most fascinating rulers. (Description from Back Cover)
Reviews:
"Contains may superb color photographs that enhance Maxwell's lively narrative." Library Journal
About the Author:
Gavin Maxwell was a Scottish naturalist and author, best known for his work with otters. He was born in Scotland in 1914 to Lieutenant-Colonel Aymer Maxwell and Lady Mary Percy, whose father was the seventh Duke of Northumberland. He was raised in the small village of Elrig, near Port William, which he later described in his autobiography The House of Elrig (1965).
After serving in the Second World War as an instructor with the Special Operations Executive, he purchased the Isle of Soay in the Inner Hebrides, where he attempted to establish a shark fishery. In 1956 he travelled to the Tigris Basin in Southern Iraq with the explorer Wilfred Thesiger to explore the area's vast unspoiled marshes; Maxwell's account of their travels was published as A Reed Shaken by the Wind (1959). It was there that he adopted the otter Mijbil. The story of how Maxwell brought Mijbil back to rise in his isolated home in Sandaig (named Camusfeàrna in the book) on the west coast of Scotland, is told in Ring of Bright Water (1960); the book sold more than two million copies and in 1969 was made into a film. It was the first in Maxwell's 'otter trilogy', for which he remains best known: its sequels were The Rocks Remain (1963) and Raven Seek Thy Brother (1968).
The house at Sandaig was destroyed by fire in 1968, and Maxwell moved into a former lighthouse keeper's cottage on the nearby island of Eilean Bàn. He died in 1969. His Eilean Bàn home remains a museum and the island a wildlife sanctuary. (From goodreads)